Members of Moscow-based punk group Pussy Riot spoke last week about the Russian penal system and violations of freedom of speech under Vladimir Putin at one the oldest synagogues in the U.S., Beth Hebrew Synagogue in Phoenix, Arizona. 
It was a public meeting to discuss freedom-of-expression issues which made the feminist rock group famous during its trial and imprisonment for anti-government messages in its native Russia.
Women of the group usually perform in bright colors, covering their faces while chanting anti-government slogans in public spaces.
Their provocative performance in the Russian Orthodox Cathedral of Christ the Savior in December, 2012 aimed to protest political propaganda of religious officials in Russia, was punished by two years in prison, which the group said wasn't unexpected.
They were released under an amnesty law that has been widely viewed as a means for Vladimir Putin to reduce criticism of Russia during the Olympics.
Group members Masha Alyokhina and Ksenia Zhivago were invited by Changing Hands Bookstore in downtown Phoenix to share about the challenges they faced in prison.
They believe their release was possible because of global support, and now Pussy Riot representatives said they can speak more forcefully against Putin's administration, continue to agitate for LGBT rights in Russia and advocate for a prison reform.
They believe the situation in Russia is changing. The support they have received from Russian society, says Alyokhina, gives them hope to stay strong in front of an administration that does not favor human-rights movements.
Since their release, they have vowed to promote feminism, gay rights, improved treatment of prisoners and more transparency in the Russian political system.
"We need to fight," said Alyokhina. "You don't have anything except yourself and your friends. This is a traumatic experience compared to what we initially planned."
During their international tour in the USA, Pussy Riot raises donations to improve the lives of their Russian supporters who are imprisoned for going against Russian propaganda.
New York was their starting point in the United States, followed by Los Angeles, San Francisco, and Buffalo.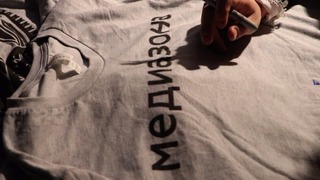 Alyokhina says they are using art as a way to express its political opinion because it's impossible to do so through any legal means to change the Russian mentality.
"When innocent people are being jailed, it can happen to anyone," she said.
Asked about the LGBT situation in Russia, Pussy Riot says it is scary. "As a person who is not really afraid about many things, the situation of LGBT community in Russia is really scary," said Alyokhina. They believe the American community could help out and lobby for LGBT rights in Russia.
ASU arts instructor Adriene Jenik, the facilitator of the public meeting, was happy to see so many questions from the American audience, but also members of the Russian community from Phoenix that came to support Pussy Riot.
"It was very supportive when they came out the audience, stand up and applauded their efforts," Jenik said. "American audience is not very informed about the things that are going on at the ground level such as LGBT, prisoners' life, so we had lots of thing to learn this day."
Comments
comments